Programme of activities
A new edition of the International Open Access Week is taking place from 21 to 27 October.

UPC libraries have prepared many activities and initiatives to disseminate open science and the importance of open access to scientific publications.

Follow us using the hashtags #OAweek2019 and #OpenAccessUPC.
Open access and open science on Twitter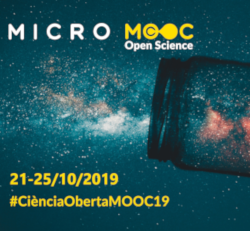 Keep your eye on @moocmicro on Twitter. Every day from 21 to 25 October, participate in our micro-MOOC about open access: open publishing, open Data, open science...

The schedules are:
#OpenScienceMOOC19 (English) - 9.00 h
#CiènciaObertaMOOC19 (català) - 10.00 h
#CienciaAbiertaMOOC19 (español) - 11.00 h

And the hashtags #OAweek2019 and #OpenAccessUPC
What do you know about open science?
Play and check what do you know about open science with this online quiz made by the Terrassa Campus Library.
Before paying for an article...
Check if there is an open access version!
Install Unpaywall, Google Scholar Button, Open Access Button or Kopernio.
Search at BASE or CORE.
Ask for a copy to the author or to the Library.
Treballs Acadèmics FIB
The Rector Gabriel Ferraté Library and the Barcelona School of Informatics (FIB) present Treballs Acadèmics FIB, an analysis of the bachelor's thesis hosted on UPCommons.

The study includes a visualization of the oustanding publications according the amount of received queries and/or to the amount of accumulated downloads from their publication to present.
Scientific publication and open access in Castelldefels
On Friday 25th October, there will take place two conferences:
"MDPI y el futuro del acceso abierto", from 11.00 to 11.45 h by MDPI (Multidisciplinary Digital Publishing Institute), an scientific open access journals publishing house
"Publicar o no publicar: ¿Es esta la cuestión?", from 11.45 to 12.30 by Dr. Ramon Pallàs
When
: Friday 25th October
Hours
: from 11.00 h to 12.30 h
Where
: 028-2 room at
EETAC
Castelldefels Campus Research
Three researchers will explain their research to us in a plain way.

Óscar Casas: Tecnologia i discapacitat (09.30 h)
Enric Pastor: La tecnología de drones (10.00 h)
Clara Prats: Fighting against tuberculosis with computational models (11.00 h)

Open to eveybody!

When: Wednesday 30th October
Hours: from 09.30 h to 11.30 h
Where: 004 room, D7 Building, Castelldefels
What do we show to the world?
Talk in Vilanova to find out the UPC's own information resources and how we project our University around the world thanks to open access!

Addressed to PDI.


When: Thursday 31st October
Hours: from 13.00 h to 14.00 h
Where: EPSEVG Library
Library Party in Vilanova
You are invited to celebrate the Libraries' International Day and the Open Access Week with us and to participate in the Instagram contest by EPSEVG Library.

How to participate:
Upload a photo where you appear in any of the EPSEVG library facilities.
Add a comment telling what do you like the most about that space using #festbibepsevg.
Mention @bibupcvilanova in your comment.
Prize: A UPC t-shirt (winner will be selected by draw and s/he will be announced on the 24th at 13.30 h).
When
: Thursday 24th October
Where
:
EPSEVG Library
The 75% of articles published by UPC in open access

According to the Medición del acceso abierto en las universidades españolas y el CSIC report, published by CRUE, the 50% of published articles in 2017 by Spanish universities were published in open access. At the UPC, the percent of articles in Open Access was higher than 75% in 2017.

In the report, the methodology of the Observatory of Open Access in Catalan universities, created by the UPC Libraries and Universitat de Barcelona, has been used.